Back to Projects
Arkansas Community Foundation Invests Big in Local Excel by Eight Project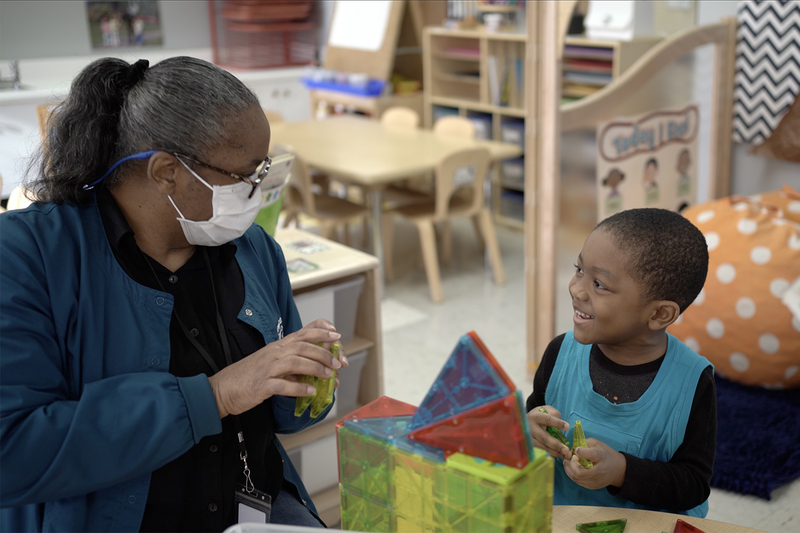 Research shows back-and-forth talk between adults and children supports brain growth and development. We're excited to announce that Batesville, Cedar Ridge, Midland, and Southside Pre-School teachers are using LENA Grow! LENA uses unique "talk pedometer" technology to measure talk to help us provide a more language-rich classroom environment. Through funding from the Arkansas Community Foundation, Independence County's early childhood educators will have the tools to improve language environments equitably and truly connect with every child in their care.
July 28, 2022 (Batesville, Arkansas)—The Independence County Excel by Eight Committee (E8) has been awarded a $60,000 grant to build brains through "early talk" from Arkansas Community Foundation. The grant will afford Batesville, Cedar Ridge, Midland, and Southside Pre-School teachers' Language Environment Analysis (LENA) cutting-edge technology, data reports and professional coaching through LENA Grow.
"Conversational turns are simple things — just back-and-forth interactions between an adult and a child, but research reveals a tremendous impact of these simple exchanges," said Jessi Rice, Community Consultant for E8's state-wide initiative.
According to research cited on LENA's website, improved brain development, executive functioning, social-emotional skills, language development, reading skills, and kindergarten readiness are among the benefits of increased interactions.
Through the LENA Grow program, students wear vests with special LENA talk-pedometers that will collect data on the classroom talk environment. Teachers will regularly review the data reports with coaches, using video examples and other tools to master techniques for increasing interactive talk with their students. The Batesville Area Chamber of Commerce will lead as the program manager for the LENA Grow program, which will begin in schools following Labor Day.
"Our E8 work in Independence County is a focused, long-term economic development strategy," said Jamie Rayford, Batesville Area Chamber's Chief Operating Officer. "When we analyze employer feedback about the gap in skills they are experiencing, it almost always comes back to executive functioning skills or self-regulation in the workplace. A sound body of research, agreed upon by neuroscientists, supports the idea that we must focus on these skills in early childhood to close this gap successfully."
"We are excited about this program and its impact on students' vocabularies, which is the foundation for literacy," said Mindy Shaw, a member of Excel by Eight's local steering committee.
Arkansas Community Foundation, a nonprofit organization with over a half billion dollars in assets, fosters smart giving to improve communities. The Community Foundation offers tools to help Arkansans protect, grow and direct their charitable dollars as they learn more about community needs. The Foundation's award will provide program technology, professional coaching, data management, and teacher incentives to implement LENA Grow successfully.
Get Involved